Welcome! Massage Therapy treatments are available in Southeastern Kentucky, by Donna Bishop. She has been licensed in the states of Washington and Arizona, and currently in Kentucky. Donna is a member of the Association of Body Workers and Massage Professionals (ABMP), and Board Certified with National Certification Board of Therapeutic Massage and Bodywork (NCBTMB). Her experience, over the past eighteen years, includes being a Preferred Provider for several health insurance companies.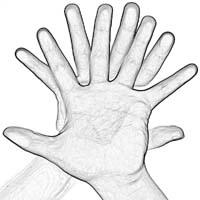 Definition of Therapeutic Massage
The scientific art and system of the assessment of and the manual application to the superficial soft tissue of skin, muscles, tendons, ligaments, fascia, and the structures that lie within the superficial tissue by using the hand, foot, knee, arm, elbow, and forearm through the systematic external application of touch, stroking (effleurage), friction, vibration, percussion, kneading (petrissage), stretching, compression, or passive and active joint movements within the normal physiologic range of motion. Also included are external applications of hydrotherapy for the purposes of establishing and maintaining good physical condition and health through normalizing and improving muscle tone.
(from The History of Massage, 2002, Robert N. Calvert)
Feel free to print my business card, and contact me for a massage!